10 years ago
I started working on pcsc-lite 10 years ago.
$ pcscd --version
pcsc-lite version 1.7.4.
Copyright (C) 1999-2002 by David Corcoran <corcoran@linuxnet.com>.


Copyright (C) 2001-2011 by Ludovic Rousseau <ludovic.rousseau@free.fr>.


Copyright (C) 2003-2004 by Damien Sauveron <sauveron@labri.fr>.
Report bugs to <muscle@lists.musclecard.com>.
Enabled features: MacOS i386-apple-darwin10.8.0 serial usb usbdropdir=/tmp/lib/pcsc/drivers ipcdir=/tmp/run/pcscd configdir=/tmp/etc/reader.conf.d

I do not have a trace of my exact first change in 2001. Maybe it was before CVS was used to manage the source code. The oldest trace I found is in the
ChangeLog
file:
pcsc-lite-1.0.2beta: (Ludovic Rousseau)
29 Nov, 2001
I released version 1.0.2beta in November 2001. But I started hacking on the code a few months before that.
First source code commit
My first CVS commit is a test :-) now know under SVN
revision number 23
.
2002-04-04  Ludovic Rousseau
    * [r23] ChangeLog: test

My next change (
revision 24
) is a "complete and automatic reindentation of *.c and *.h files". 54 files were affected by this patch. Yes, I do not like to work on badly formatted files.
My history
I already blogged about pcsc-lite history in October 2010 in
Subversion statistics for pcsc-lite at September 2010
. You can also access a specific page for each maintainer. My page is
here
.
One nice graphic is the activity by hour. You can clearly find the two lunch times and sleep time.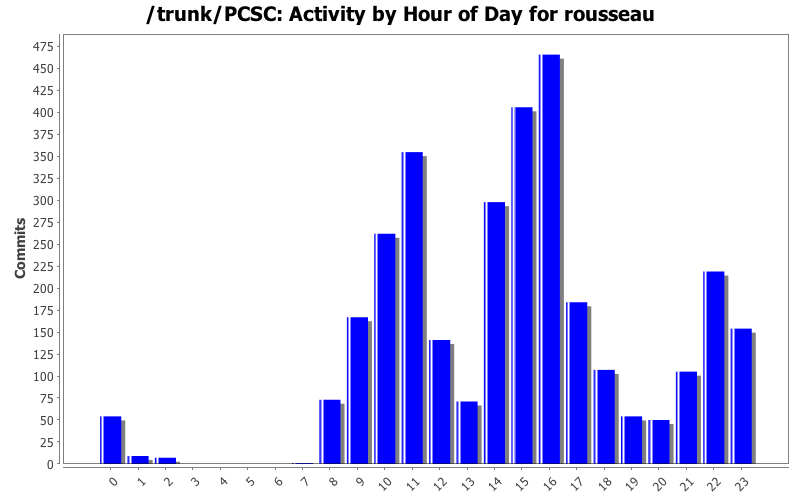 Next 10 years
API
The PC/SC API is (should be) fixed by the
PC/SC workgroup
. But Microsoft does not want to change anything in its implementation. So the PC/SC workgroup does not propose any change that would need a modification of the Microsoft parts. Any change made by the PC/SC workgroup are implemented by drivers instead.
So I do not expect any change of the WinSCard API.
TODO
The pcsc-lite
TODO list
contains only 3 points.
include Apple patches and improvements (if possible/needed)
allow to have pcscd and libpcsclite on two different machines.
That would be needed to support remote PAM login. Maybe use unix2tcp (http://dizzy.roedu.net/unix2tcp/)
manage power suspend/resume (in a laptop for example) and coordinate with the driver (when/if possible)
Point 1: Apple has its own version of pcsc-lite, now hosted on
http://smartcardservices.macosforge.org/
. I don't think Apple is interested in merging their code with the "official" pcsc-lite version.
Point 2: It is more of less already possible by redirecting
/var/run/pcscd/pcscd.comm
(see
PC/SC client and server on two different hosts
). Or using another remote desktop solution like rdesktop.
Point 3: I do not have a laptop any more. So I have no idea of what is needed here. The only request I have is Debian bug #382282 "
pcscd needs to be restarted across suspend
" opened since Aug 2006.
New blood?
I do not see any new blood on the
MUSCLE mailing list
 working on pcsc-lite code. The pcsc-lite project may suffer from the
bus factor
.
Conclusion
I am happy to continue maintaining pcsc-lite for the next few years. Maybe I will also create a new blog entry for my 20 years with pcsc-lite.