Article from the serie "CCID descriptor statistics"

The dwProtocols field is a number value from the CCID USB descriptor:

RRRR –Upper Word- is RFU = 0000h
PPPP –Lower Word- Encodes the supported protocol types. A '1' in a given bit position indicates support for the associated ISO protocol.
0001h = Protocol T=0
0002h = Protocol T=1
All other bits are reserved and must be set to zero. The field is intended to correspond to the PCSC specification definitions. See PCSC Part3. Table 3-1 Tag 0x0120.
Example: 00000003h indicates support for T = 0 and T = 1.
| dwProtocols | # | % |
| --- | --- | --- |
| 0x0000 0x0003 | 207 | 81.50 % |
| 0x0000 0x0002 | 27 | 10.63 % |
| 0x0000 0x0001 | 19 | 7.48 % |
| 0x0000 0x0300 | 1 | 0.39 % |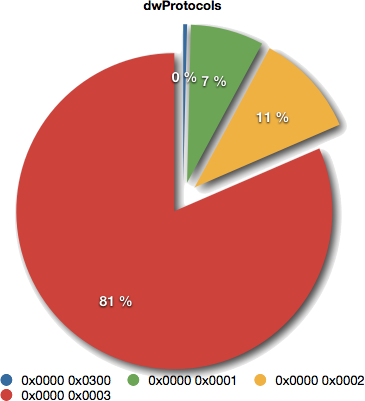 The value 0x0300 is bogus and is used by the reader:
Some readers (7.48%) only supports the T=0 protocol. They are:
ATMEL AT91SC192192CT-USB ICCD reader
ATMEL AT98SC032CT-USB
ATMEL VaultIC420 Smart Object
ATMEL VaultIC440
ATMEL VaultIC460
BIFIT iBank2Key
Gemalto Hybrid Smartcard Reader
Gemalto SA .NET Dual
Gemalto Smart Enterprise Guardian Secure USB Device
Gemalto Smart Enterprise Guardian Secure USB Device
IID AT90S064 CCID READER
INSIDE Secure VaultIC 405 Smart Object
INSIDE Secure VaultIC 441 Smart Object
Inside Secure VaultIC 420 Smart Object
Inside Secure VaultIC 440 Smart Object
Inside Secure VaultIC 460 Smart Object
KEBTechnology KONA USB SmartCard
Kingtrust Multi-Reader
RSA RSA SecurID (R) Authenticator
SchlumbergerSema SchlumbergerSema Cyberflex Access
SecuTech SecuTech Token
Softforum Co., Ltd XecureHSM
TianYu CCID Key TianYu CCID SmartKey
Some readers (10.63%) only supports T=1 protocol. They are:
ACS ACR122U PICC Interface
ASK-RFID CPL108
Aktiv Co., ProgramPark Rutoken Magistra
Aktiv PINPad Ex
Aktiv PINPad In
Aktiv Rutoken ECP
Aktiv Rutoken lite
BIFIT USB-Token iBank2key
CCB eSafeLD
Crypto Stick Crypto Stick v1.4
Feitian ePass2003
Free Software Initiative of Japan Gnuk
Gemalto PDT
German Privacy Foundation Crypto Stick v1.2
Giesecke & Devrient GmbH Star Sign Card Token 350 (ICCD)
Giesecke & Devrient GmbH Star Sign Card Token 550 (ICCD)
GoldKey Security PIV Token
IIT E.Key Almaz-1C
Macally NFC CCID eNetPad
OCS ID-One Cosmo Card USB Smart Chip Device
Philips Semiconductors JCOP41V221
Philips Semiconductors SmartMX Sample
REINER SCT cyberJack RFID basis
Watchdata W5181
Yubico Yubikey NEO CCID
Yubico Yubikey NEO OTP+CCID
id3 Semiconductors CL1356A_HID
id3 Semiconductors CL1356T5
id3 Semiconductors CL1356T
ubisys 13.56MHz RFID (CCID)
Many of the readers with support of only 1 protocol are tokens with an integrated smart card. Since you can't change the card only the protocol used by the card is declared. So it is not really a limitation of the reader.