GitHub Sponsors
GitHub now proposes a way to fund the Free Software projects you use. From their
presentation page
:
A new way to contribute on GitHub
Funding developers and organizations through GitHub Sponsors is one more way to contribute to open source projects you appreciate. Help projects get the resources they need, and recognize contributors working behind the scenes to make open source better for everyone.
With Sponsors, any GitHub user can sponsor any open source developer or organization in the program.
I am now part of the Sponsors project. You can sponsor my Free Software projects on github.
You will find a Sponsor button in each project page. For example: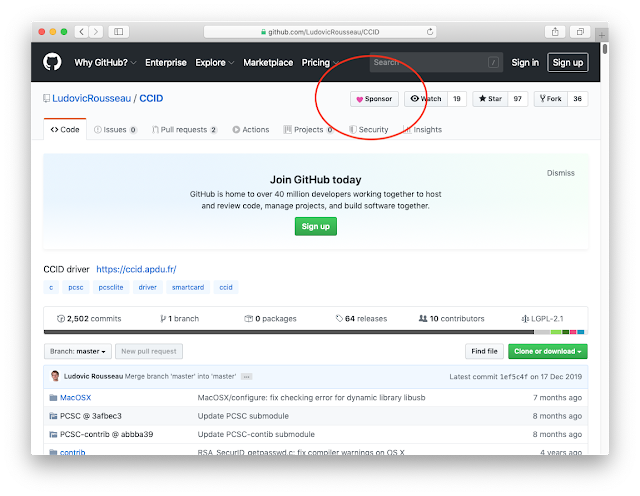 I am really new to this program so I have no idea how it will work for me and my Free Software projects.
I configured two options: 1 $ per month and 10 $ per month. Maybe I should configure more options. Just tell me.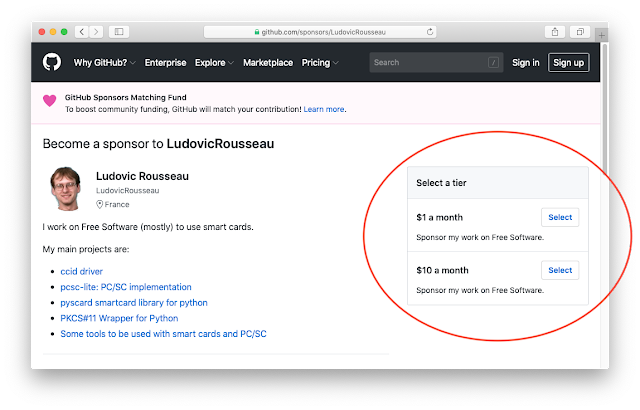 Other funding systems
I already tried other ways to receive some money.
Flattr
In 2010 I tried Flattr. See "
How to help my projects?
" but, as I explained in "
My Flattr experience
" 4 years later, all the money went to Flattr itself as "tax".
It was not a positive experience.
Bitcoin
In 2014 I created a bitcoin account. See "
How to help my projects? Send me bitcoins!
". After 2 years (in 2016) I made a status in "
Bitcoins received for this blog: 2 years later
".
Since the bitcoin blockchain is public you can
see all the transactions
I received so far. In 5 years I received
0.12837149 BTC (around 1000 €) for a total of 10 donations.
That is ~200 € per year or ~15 € per month. That is enough to pay for the VPS I use to host the apdu.fr services.
Maybe I should make more advertising about the possibility to send me bitcoin.
Conclusion
I have no idea how the GitHub (owned by Microsoft) Sponsors program will evolve. I propose to make a status in 2 or 3 years to see how it goes.
Update: 1 Feb 2020
You can access my Sponsor page at
https://github.com/sponsors/LudovicRousseau
.
I added new options 2$, 4$ and 8$ per month in addition to the 1$ and 10$ per month to give you more flexibility. Maybe I should have used a Fibonacci suite instead? 🙂